Japan Rail Pass
What are Japan Rail Pass and Regional Pass?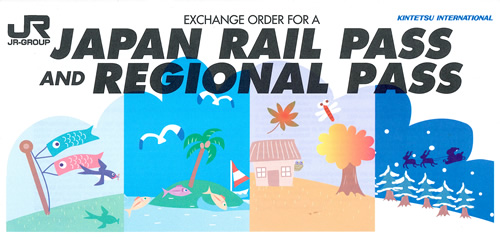 Japan Rail Pass

Japan Rail Pass covers all areas of Japan where JR lines run through. We especially recommend it for the first time travelers who wish to visit many popular spots throughout the country economically and wisely. For example, you can save your transportation fees by starting at Narita International Airport, and then, visit Tokyo, Hakone, Osaka, Kyoto, and come back to Narita Airport again within 7 days. You can extend your travel route and making more stops, saving even more!
Regional Pass

If you are focusing on a particular part of Japan, you can use a regional pass and travel by an even more economical deal. It is highly recommended for the travelers that have limited time to visit all over Japan, or that would rather focus on a specific region.
Our travel specialists are happy to assist you plan a perfect Japan travel. Please feel free to call or drop by our office at any time!
---
Who is eligible for the passes?
1. A foreign tourist visiting Japan from abroad for a sight-seeing purpose, under the entry status of "temporary visitor"

You must be a "temporary visitor" in Japan in order to get Japan Rail Pass or Regional Pass. Your status as a temporary visitor needs to be proven by showing the immigration stamp on your passport to the officer upon exchanging the pass.
Caution
It is only the "temporary visitor" status holders that can exchange their exchange order to the pass. Other statuses, such as Trainee, Entertainer or Reentry Permit, are not accepted for the pass exchange, even if you visit Japan with an Exchange Order. According to the Japanese Immigration Law, the temporary visitor status is different from other statuses, however short the visit may be.
*"Temporary Visitor" entry status allows a stay in Japan of 15 days or 90 days for "sight-seeing, etc."
Examples of the "temporary visitor" immigration stamp
2. A Japanese national living outside of Japan

While under certain conditions, a Japanese national may use Japan Rail Pass or some Regional Pass. However, such bookings are not available on this website. Please call or visit our office so our travel consultants can assist you.
How to Purchase a Japan Rail Pass
In-store purchase
HIS Hawaii offers Japan Rail Pass purchases at four stores in Hawaii. Please bring your passport to any of the following locations within 90 days of your intended date of use and we will make your JR Pass vouchers. The entire process usually takes about 15-20 minutes. If you would like to purchase your Japan Rail Pass at our Waikiki & Kona locations, please make an appointment in advance.
HIS Hawaii – Ala Moana Branch
Ala Moana Center 1F, near main food court and Center Stage
1450 Ala Moana Blvd Suite 1206, Honolulu
Open Daily, 10:00am – 7:00pm
No appointment needed, walk-ins welcome – TEL: 808-922-2211
HIS Hawaii – Waikiki Branch
Waikiki Shopping Plaza 4F
2250 Kalakaua Ave, Suite 406, Honolulu
Appointment Only – TEL: 808-922-2211
HIS Hawaii – Kona Branch
Courtyard Marriott King Kamehameha's Kona Beach Hotel 1F
75-5660 Palani Road , Kailua Kona
Appointment Only – Please call 808-326-1414
HIS Hawaii – Maui Branch
173 Alamaha St Suite 6, Kahului
Open Daily, 8:00am – 5:00pm
No appointment needed, walk-ins welcome – TEL: 808-218-6130
Mail Order
If you aren't able to come to our stores we can mail the Exchange Voucher(s) to your residence. However, this service will incur an additional $15 mailing fee for all USA addresses. Please send us a message via the below Inquiry button and we will email you the application form. After receiving your application we will send an online payment link and mail your voucher(s) to your home. We ship via USPS priority mail so you will generally receive your Exchange Voucher(s) within one week of payment.
---
Pass Types and Prices
All Japan, one pass
Prices below may not be up to date. Please contact us for current pricing.
Japan Rail Pass
All Japan, one pass. From Hokkaido to Kyushu, Japan Rail Pass covers all areas of Japan. Once you arrive in Tokyo Narita International Airport, the convenient Narita Express (N'EX) is available to take you to the heart of Tokyo! Hokkaido, Nikko, Tokyo, Hakone, Takayama, Nagoya, Osaka, Kyoto, Hiroshima, Miyajima, Nagasaki… any city you name is reachable with this pass.
For example, cross the country from the south to the north, hunting cherry blossom in spring. If you take the tour from the north to the south, you can chase the autumn foliage, leaf peeping in the fall. You can use the high speed bullet trains (expect Nozomi and Mizuho) that take you to the next destination rapidly and comfortably. You can choose the duration of pass validity from 7 days, 14 days and 21 days, depending on your travel plan.
How about visiting all your favorite cities in Japan, making stops carefree?
Regional Pass
Hokkaido Rail Pass
Explore the beauty and mystery of Hokkaido with Hokkaido Rail Pass. Beautiful national parks, world class night views, adventurous activities in the nature, spacious health-rewarding hot springs, blessed food from the rich soil, Asahiyama Zoo… Hokkaido is full of attractions to enjoy. Hokkaido Rail Pass is a way to explore the beautiful land from Naka-Oguni as far as Wakkanai, of course, including the most popular city, Sapporo where you can enjoy the famous Sapporo beer and ramen!
While the popular 3 days, 5 days and 7 days only apply to consecutive days, flexible 4 days is available in addition, with which you can choose 4 days as you like from a 10-day-period.
Sapporo-Noboribetsu Area Pass

JR East-South Hokkaido Rail Pass

JR Tohoku-South Hokkaido Rail Pass
JR East Pass
JR East Pass allows you to travel from Tokyo as far as Nagano, Niigata, Shinjo, Akita and Aomori on the bullet trains as well as all other JR East lines at a reduced price thanks to unlimited access for 5 flexible days.
The flexible pass, which is valid for 14 days, allows you to choose 5 days of use, from the day of exchange.
It is an ideal alternative for those wishing to take their time to visit.
A child price (6 to 11 years of age) is available for this pass.
Access to trains is free for accompanied infants aged 5 years or under. Japanese passport holders can NOT use this pass.
JR East Pass
(Tohoku area)

JR East Pass
(Nagano, Niigata area)
JR Central Rail Pass
Takayama, Shirakawa-go and Gokayama is the golden route that guarantees to make you want to return to Japan. Prepare to be amazed by the beauty of Japan nature and traditions. The World Heritage, Shirakawa-go mountain villages with 250-year-old Gassho style house (thatched roofs houses). The historic Takayama town, the famous Gero onsen and much more for you to explore in the area. Not far away is Kanazawa, where you can find many historical attractions such as teahouse with geisha performance; former samurai district: and one of Japan's best three garden, Kenrokuen. This five-day-pass gives you access from Nagoya to popular areas in Gifu prefecture and all the way to Kansai region, including Kyoto and Osaka. Within the free area, you have unlimited rides on any JR conventional line, including the Limited Express "Wide View Hida", Limited Express "Thunderbird" and the Hokuriku shinkansen. This pass will assist you to discover a totally unique aspect of Japan.
JR West Rail Pass
Kansai is where you experience the Japanese culture in depth. Time-travel to the ancient capital in Kyoto. Feel the unique businessman spirit in Osaka. Immense yourself to the silent temples in Nara. Kansai Area Pass realizes these dreams economically with the convenient train network. It covers all the main cities in the area: from Kansai International Airport (KIX), Nara, Kyoto and Osaka to Kobe and Himeji. Meanwhile, Kansai Wide Area Pass covers Wakayama, Shingu and all the way to Kurashiki in addition, with the use of Sanyo Shinkansen Bullet Train between Shin-Osaka and Okayama.
Okayama-Hiroshima-Yamaguchi Area Pass
JR Shikoku Rail Pass
The beautiful island of Shikoku is a blessing of the nature and culture.
Immense yourself in the fresh air from the ocean. Experience the panoramic view of Matsuyama Castle, the same feeling that a lord would have felt hundreds of years ago. Then, how about treating your body in abundant hot springs with fresh seafood or famous Sanuki noodle at the end of the day?
KAGAWA Mini Rail & Ferry Pass
JR Kyushu Rail Pass
All Kyushu Area pass is valid on all JR Kyushu lines.
Ride as many times as you like throughout the designated Kyushu area, on local, limited express and Kyushu Shinkansen "bullet" trains.
The pass is not valid on the Sanyo Shinkansen, sleeper trains or JR Kyushu buses.
A child price (6 to 11 years of age) is available for this pass.
Access to trains is free for babies under 5 years of age.
Ordinary Car
All Kyushu Rail

Ordinary Car
Northern Kyushu Area

Ordinary Car
Southern Kyushu Area

Ordinary Car
Sanyo-San'in Northern Kyushu Pass